If you are using cryptocurrencies for investment and trading purposes, you also need a wallet. Owning a wallet is not a very difficult process and is completely free.
Kripto para cüzdanları, özel anahtarınızı saklamanıza ve kurmuş olduğunuz cüzdan türüne göre, birden fazla defter ile etkileşimde kalmanıza yardımcı olan bir köprü niteliğindedir.
Bu cüzdanlar arasında en popüler olanı Ethereum Blockchain üzerinde çalışan ve ETH ve desteklediği kripto paraları depolamanıza yardımcı olan MetaMask'dır. MetaMask sayesinde kolaylıkla Ethereum dapp'lerine (merkezi olmayan uygulamalar) erişim sağlayabilirsiniz.
What is MeteMask?
MetaMask is a wallet that runs on your browser and allows you to transact on the Ethereum blockchain. You can easily use MeteMask on different browsers such as Firefox, Opera, Chrome and Brave. In addition, you can easily obtain MetaMask wallet from iOS and Android markets.
MetaMask is an ETH wallet that supports all tokens developed on the Ethereum network. So what sets MetaMask apart from other Ethereum wallets? What makes MetaMask unique is that it can easily integrate with websites and allow payments. In other crypto wallets, you need to copy and paste the wallet address or scan your wallet QR code, but you can perform your transaction in seconds via a pop-up window via the MetaMask plugin.
How to Install MetaMask?
Öncelikle MetaMask'ı yüklemek için Google Chrome tarayıcınızın uzantılar bölümüne "MetaMask" yazarak ya da aşağıda belirttiğim linkten direkt olarak indirebilirsiniz. Burada dikkat etmeniz gereken en önemli konu, son günlerde artan kripto para dolandırıcılığından dolayı indirdiğiniz eklentiye ya da uygulamaya çok dikkat etmelisiniz.

MetaMask Download Link: https://metamask.io
After installing MetaMask from the link or the Google Chrome extension, you need to open the extension in the upper right corner of your browser. After turning on the extension, you will be asked whether you have a MetaMask wallet before.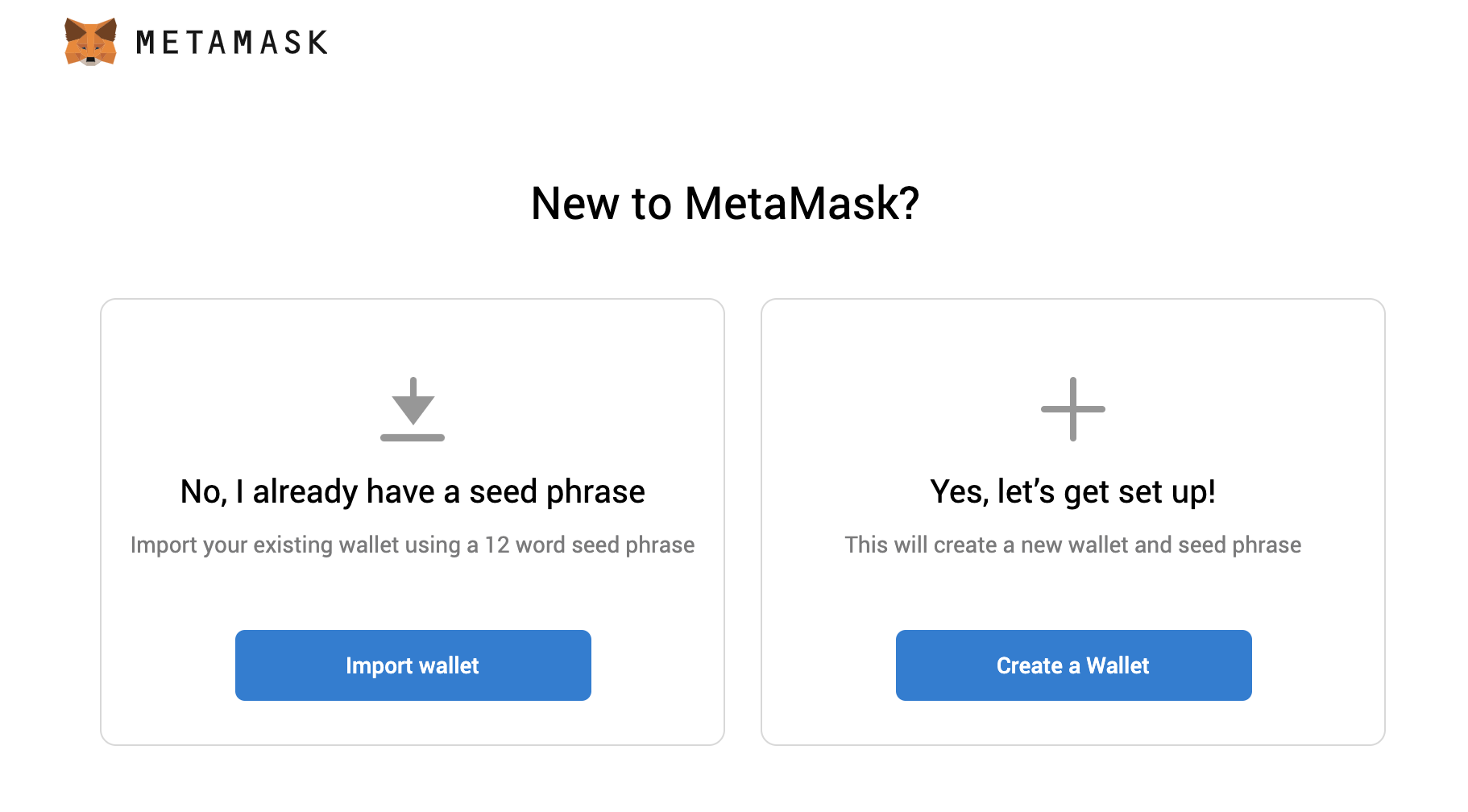 Assuming you are using a MetaMask wallet for the first time, you need to click on the "Create a Wallet" tab. Afterwards, MetaMask will ask you to enter a password of at least eight digits, as you can see in the image below.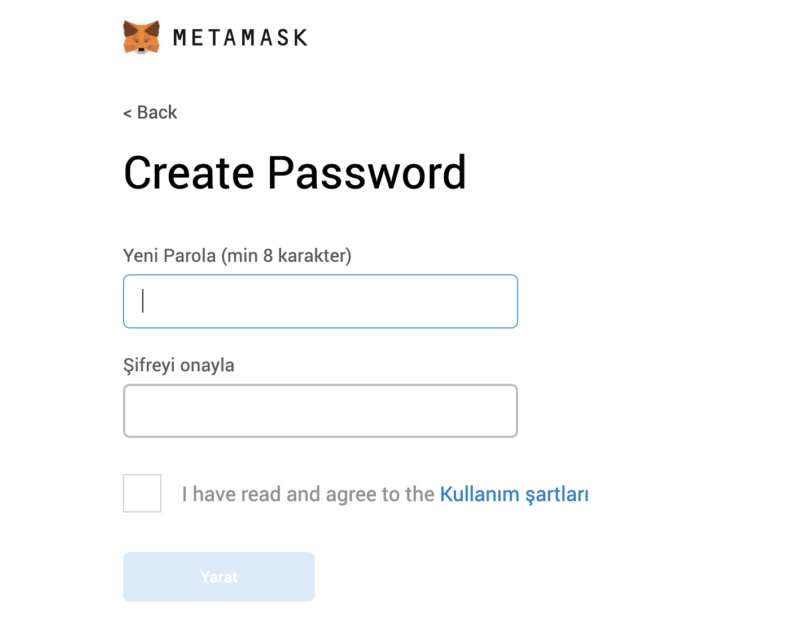 After you set your password for MetaMask login, the app will give you 12 different keywords. In order to ensure the future security of your assets and to avoid any loss of access, we strongly recommend that you write these 12 words on a piece of paper and keep the paper. Because a person with these keywords can gain full access to your wallet.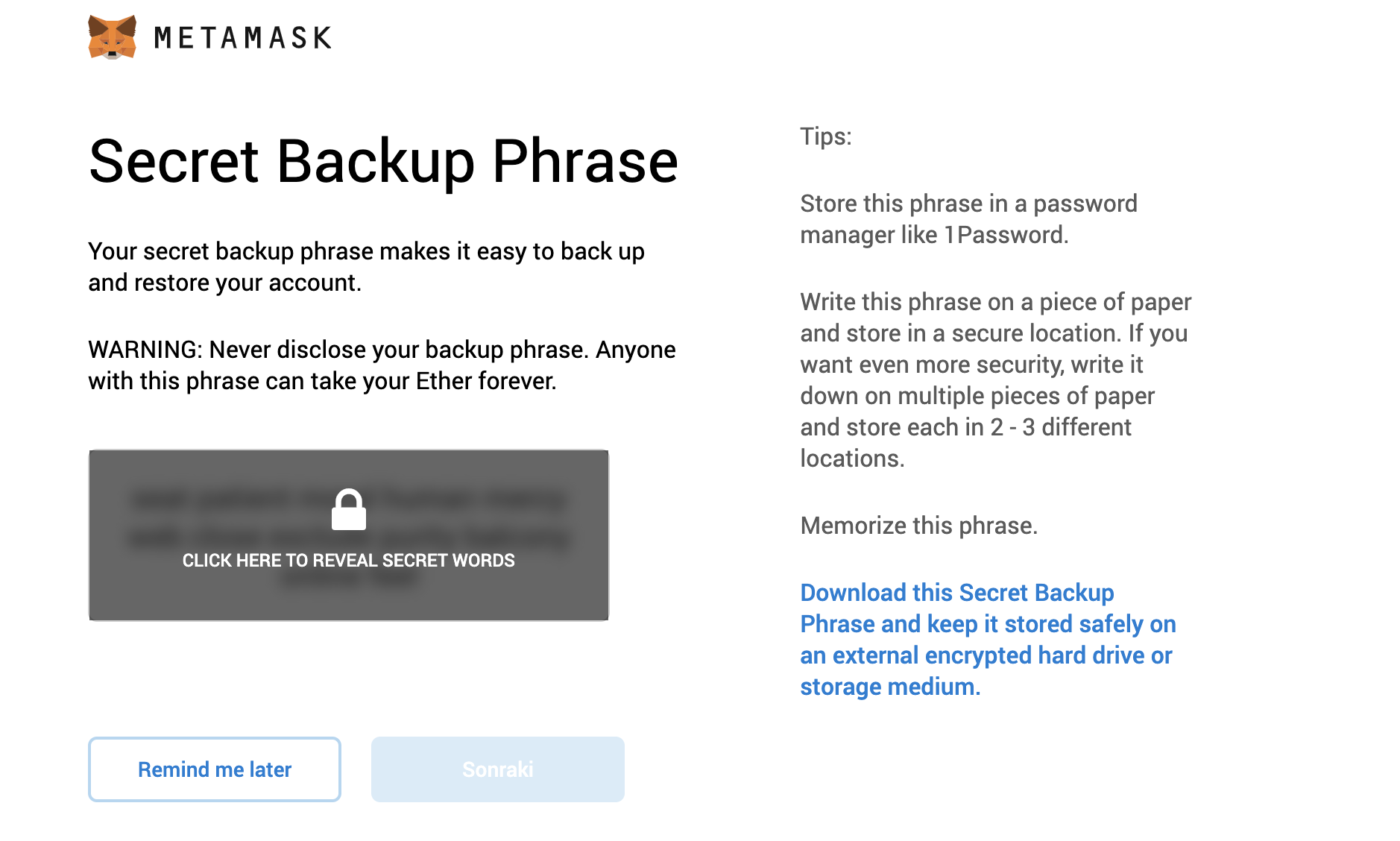 After taking note of the 12 keywords given by MetaMask, MetaMask will ask you to verify a mix of the words it has given you. After entering these words as MetaMask asks you, your MetaMask wallet is ready to use.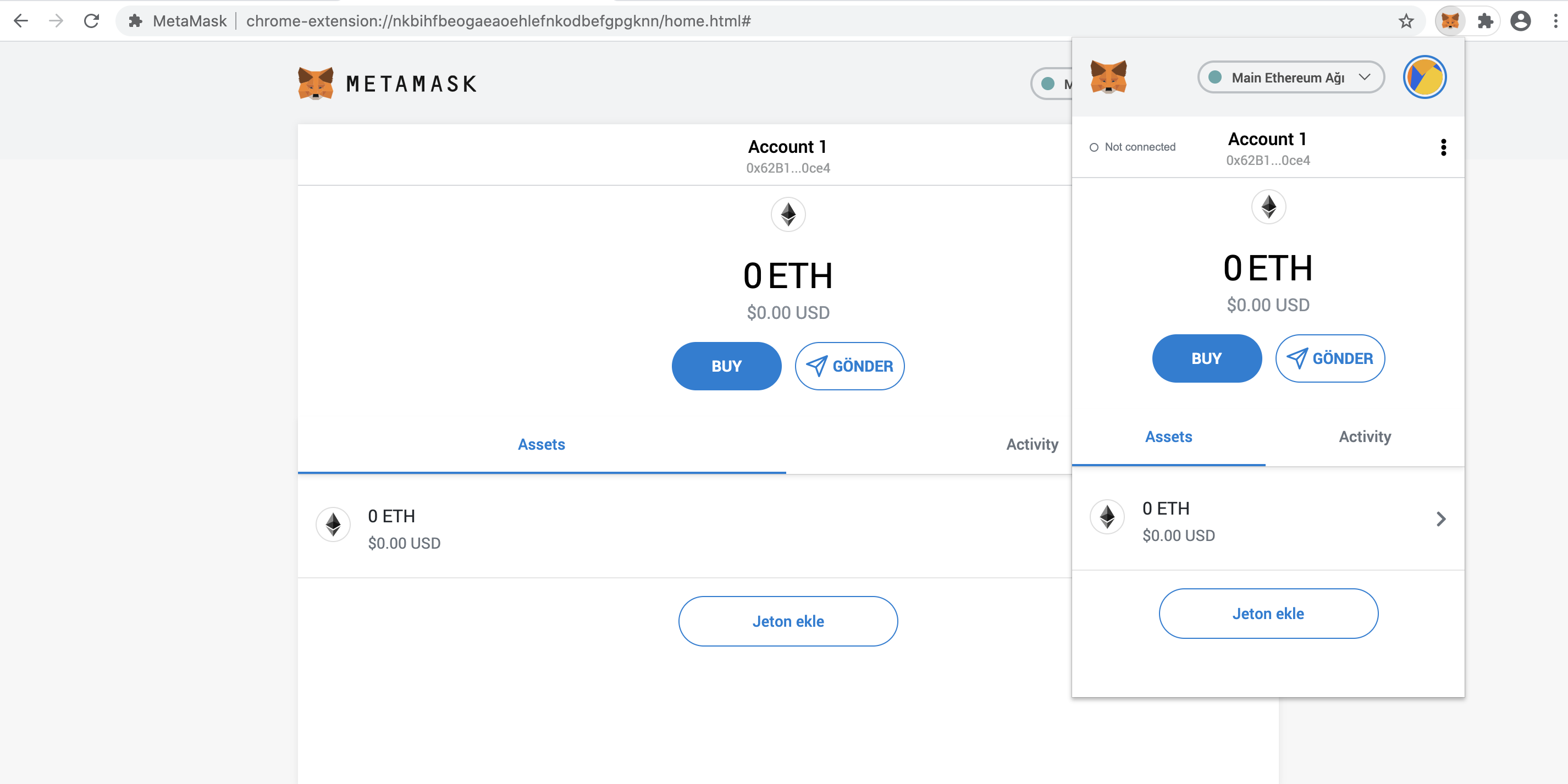 After all these stages, you can use your MetaMask wallet to store your cryptocurrencies and to transact in Defi.
How to Install MetaMask for Phones?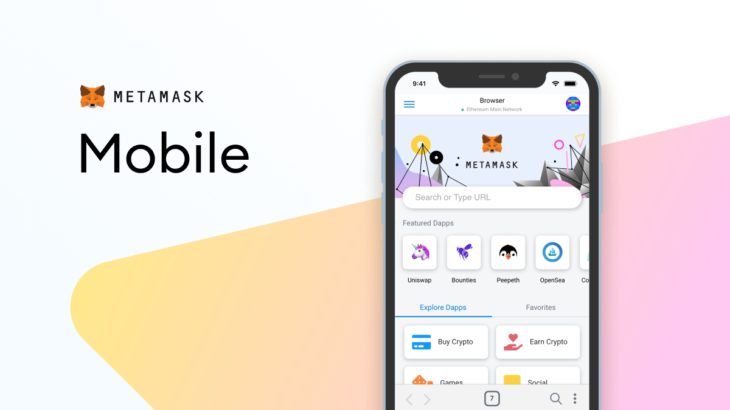 It can be installed as Android and iOS applications for MetaMask, which can be added to computers as a Chrome extension.
How To Install Metamask For iOS Apps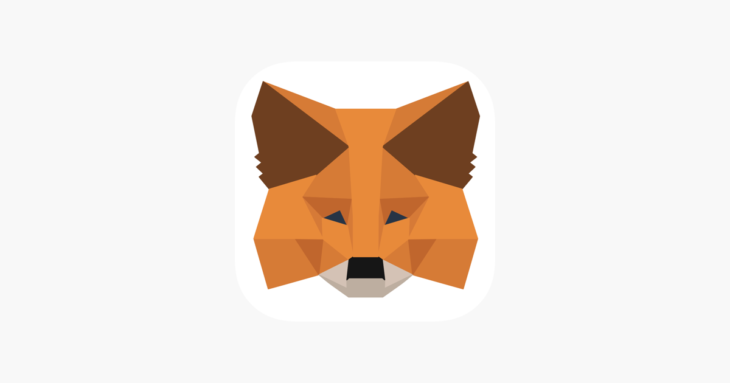 If your phone is using the iOS operating system, you must first enter the Apple AppStore. Then you need to write "MetaMask" in the search and install the MetaMask-Blockchain Wallet option in the applications. You must be logged into your Apple account to be able to install it. Then you can easily install it.
How To Install Metamask For Android Apps?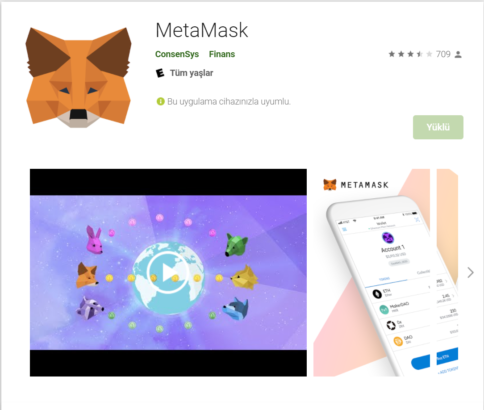 If your phone is using the Android operating system, you must first log into your Google Play Store account. Then you need to type MetaMask in the search button and click on the sign you see at the top and install. Then, after installing MetaMask on your device, you can proceed to the next step.
How to Install MetaMask Mobile Wallet?
MetaMask wallet setup is similar to how to setup it via Google Chrome. First, you need to enter your MetaMask application on your phone and create an account. After you enter the application, it first asks you if you have an account. If you don't have an account, it will ask you to create an account. To open an account, you must enter your e-mail address and at least eight-digit password. Then you need to re-enter the password you entered before to verify your password. If you want, save the 12-word code somewhere, just in case. After entering the 12-word code in the correct order, your account is ready to use.
Changing Networks in MetaMask Wallet
Metamask'ı ilk kurduğunuzda bir Ethereum cüzdanı olacaktır. Eğer kullanacağınız ağı değiştirmek isterseniz Ayarlar sayfasında ağ kısmından yeni ağlar ekleyebilirsiniz. Örneğin aşağıda BSC ağına bağlanmak için gerekli adımlar gösterilmektedir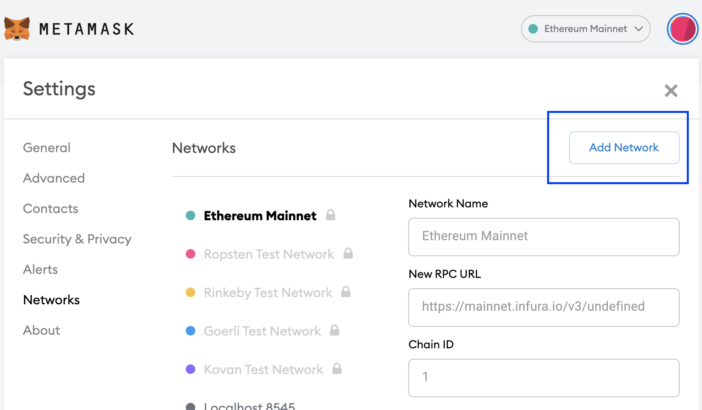 Click Add Network in the upper right corner to add Binance Smart Chain. Since the BSC option is not available, you have to enter the parameters separately.
Network Name (Ağ Adı): Smart Chain
New RPC URL (Yeni PRC URL'si): https://bsc-dataseed.binance.org/
ChainID (Zincir Kimliği): 56
Symbol (Sembol): BNB
Block Explorer URL (Blok Tarayıcı URL'si): https://bscscan.com
Source: Coincolik.com
---
*You can join our telegram group to be informed about news and analysis faster. To join our Telegram group  click here.